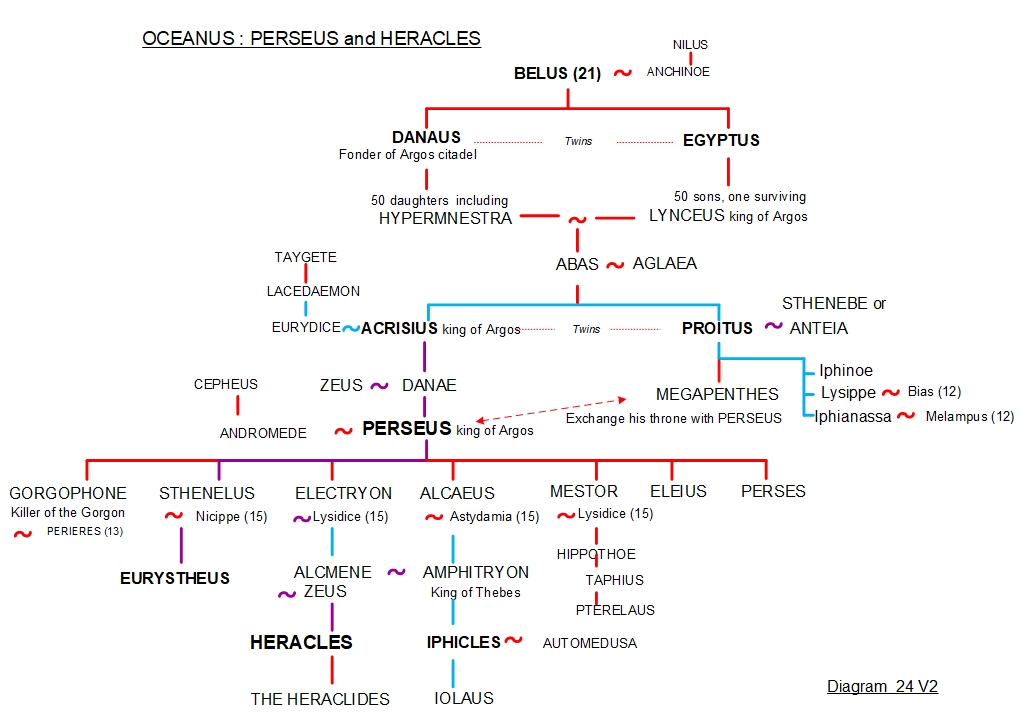 FAMILY TREE 24 – OCEANOS: THE LINE OF BELOS
The line of Belos in which the great heroes Perseus and Heracles appear is a branch of " Inachus – Family tree 21", which describes a line from the son of Oceanos, Inachus, and therefore concerns the process of purification / liberation. Inachus, let us recall, embodies "the evolution of concentration (of the seeker)" or "the evolution of the process of bringing together the different parts of the being" around the psychic being.
The branch listed above is described in detail on the following pages:
– PERSEUS AND THE GORGON MEDUSA; INTRODUCTION TO THE FIRST SIX LABOURS OF HERACLES
– INTRODUCTION TO THE SIX FINAL LABOURS OF HERACLES
– In the twelve pages where the Labours of Heracles are studied (see the tab "Greek Myths Interpretation" to access these pages)
– LATEST ACHIEVEMENTS OF HERACLES
It describes the achievements necessary for liberation.
Perseus being the great-grandfather of Heracles, the victory which he gained on the Gorgon and which is the symbol of a progressive victory over fears, is like a leitmotif which oversees all the Labours. For the seeker must successively overcome his fears in the mind, in the vital and then in the body. The last fears are uprooted when the seeker reaches the deep layers of consciousness represented by the Graeae. Between the three of them, they had only one eye and one tooth that they passed in turn, symbols of the first glimmers of consciousness and the rudiments of archaic memories.
Perseus had several sons, including:
– Electryon, the one who is like "amber", symbol of an advanced stage of purification, father of Alcmene and therefore grandfather of Heracles.
– Sthenelos "the one who works for a powerful liberation", the father of Eurystheus "a great (inner) force" the fourth king of Mycenae. The latter is the one who sets the transformations in motion by demanding that Heracles carry out the Labours.