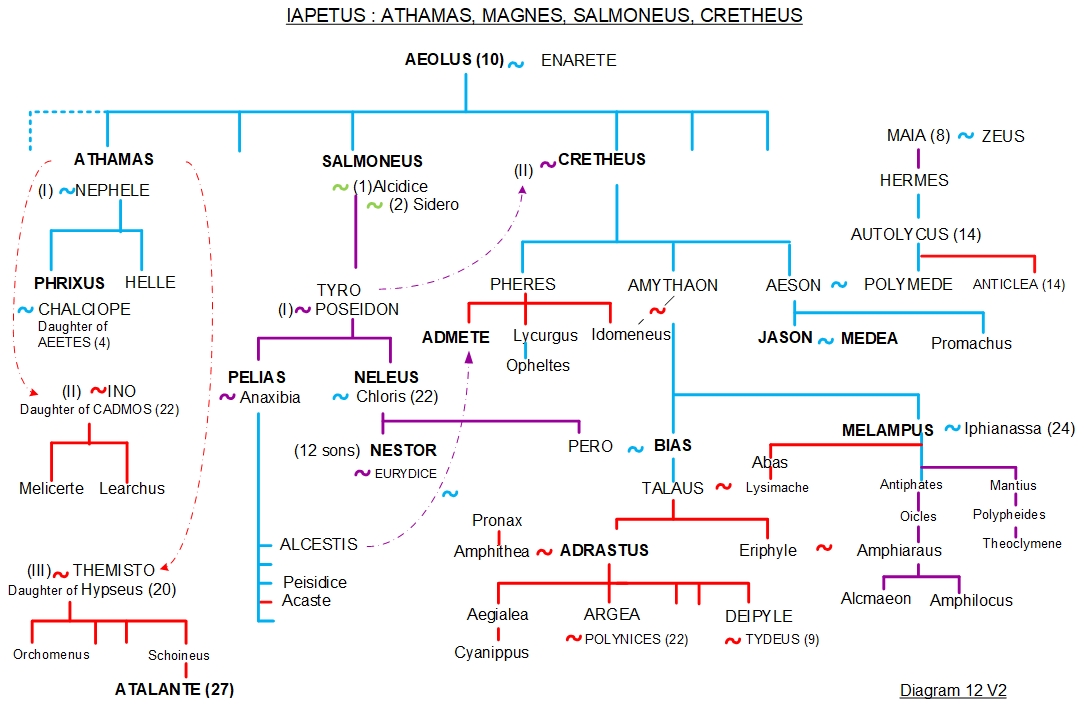 FAMILY TREE 12 – JASON
This page presents the family trees of four sons of Aeolus out of the seven. Aeolus belongs to the line of Iapetus "the ascent of the planes of consciousness" (cf. Family tree 10 and Family tree 7).
The Sisyphus family tree is presented in Family Tree 11.
The four lines presented here relate respectively:
-Athamas: the first contacts with the psychic being until the establishment of an inner law in view of integrity.
-Magnes: aspiration, necessary for engagement on the path
-Salmoneus: the spiritual claim.
-Cretheus: the first great spiritual experience
They are studied in the page " THE FIRST FIVE CHILDREN OF AEOLUS: SISYPHUS AND HIS SON BELLEROPHON, ATHAMAS, MAGNES, SALMONEUS AND CRETHEUS ".
The main characters of these lines also intervene in myths which are studied separately. In particular, the myth of Jason and the Argonauts conquering the Golden Fleece is studied in the page "JASON AND THE GOLDEN FLEECE". It concerns the beginnings of the path until the encounter with the "master" (or the particular path of the seeker) then the progression until the first great spiritual experience. But the seeker, by a lack of consecration and because of an overly pressing ego, cannot keep the new possibilities which appeared during this first experience: the children of Jason and Medea are killed.
The lineages of the other two other children of Aeolus, Perieres and Deioneus, are presented in Family tree 13 and Family tree 14, respectively.