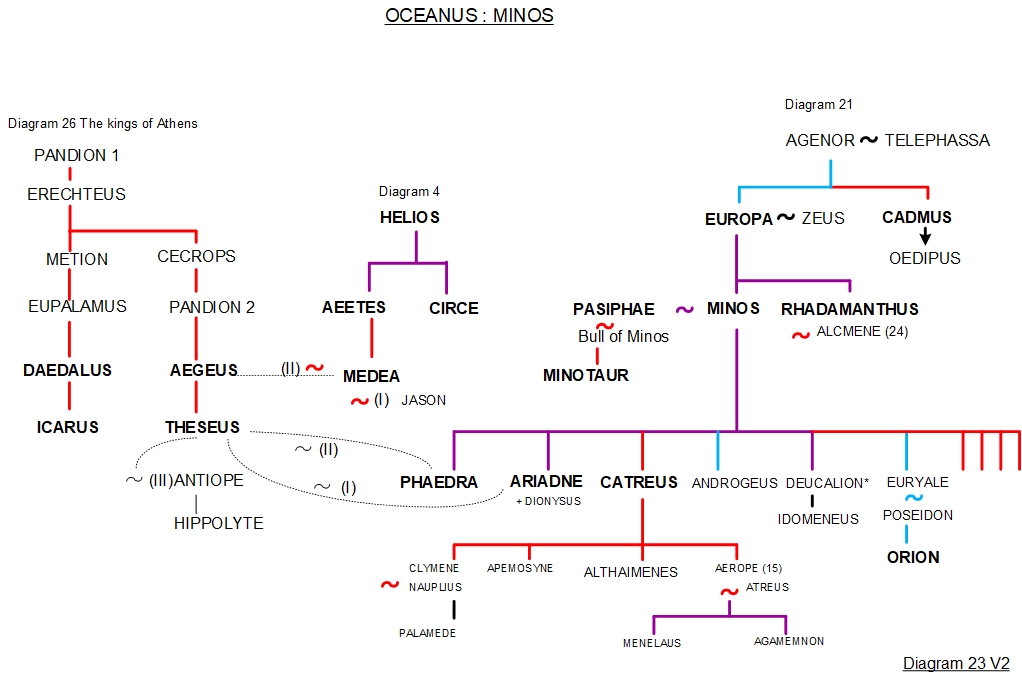 FAMILY TREE 23 – OCEANOS: THE LINE OF EUROPA AND MINOS
The family tree above is a branch of " FAMILY TREE 21 – OCEANOS: THE INACHIDS ", which describes a line from the son of Oceanos, Inachus, and therefore relates to the process of purification / liberation. Inachus, let us recall, embodies "the evolution of concentration (of the seeker)" or "the evolution of the process of bringing together the different parts of being" around the psychic being.
The branch shown above relates more particularly to the descendants of Europa "a vast equilibrium" or "a vast vision". (Remember that a line is continued by a woman if she is united with a god). It is described in detail in the page "EUROPA, THESEUS AND THE MINOTAUR, DAEDALUS AND ICARUS".
Europa is very beautiful: she therefore represents a first "true" movement of purification of the external being which allows this enlarged consciousness to be contacted and fertilized by the higher plane of the spirit, Zeus. She had two children, Minos and Rhadamanthus, known for their wisdom and justice. Minos is the symbol of the evolution of receptivity and the purification of discerning intelligence. It represents a seeker who obtained a great mastery over the vital world (emotions, desires, etc.) because Minos was famous for having first obtained a vast maritime empire.
Minos joins Pasiphae "the one who shines for all". But Pasiphae fell in love with a bull, symbol of the "power of realization of the luminous mind", which should have been sacrificed to the gods. The seeker therefore kept this power for his own benefit, which will lead him to a monstrous realization, outside the spiritual path: the Minotaur. The seeker then appealed to his highest intellectual qualities because Pasiphae asked for help from Daedalus. The latter is the most skilful of craftsmen, that is, the most skilful in developing perfectly structured mental forms. This intervention will only reinforce this error by dressing it with a mental construction "the labyrinth" which integrates everything into its own system but from which nothing can come out. It will take the intervention of the tenth king of Athens, Theseus, the great purifier, to get the seeker out of this impasse.